Our Coaching
Our Seadragon Coaching Sessions are a fully-customized experience based on science, health, intuition and imagination. Watch the video below for a message from Courtney – and get an idea of what you will see and hear during an online session.
Online: At your scheduled time, receive a 1:1 coaching session/lesson via live video chat (Skype or Zoom), right at your computer, designed specifically to support you in your unique vocal and musical aspirations. We specialize in our online teaching methods specifically – and we love that we get to preserve the integrity of a truly personal interaction through video chat. We use professional photography lighting and sound equipment to give you the best e-learning experience possible. Super simple and convenient!
In-person: Sessions are also available by invitation at our North Atlanta garden retreat in Roswell, Georgia. In-person clients receive the extra benefit of access to our relaxing and professionally-designed studio facilities and recording equipment during their sessions.
Be sure to read our Q&A for additional information!
What's included?
Personalized, 1:1 Coaching Sessions – available in 45, 60 and 90 minute options
"Seadragon SongJournal" – for weekly clients only – collaborative, typed session notes (covering warm-ups, specific songs and discussed concepts) sent via private Google Doc to help keep track of weekly ideas, progress and goals
Supplemental Resources & Exercises – included, as desired, for further inspiration throughout the week, such as: 

practice observations, lyric exercises, writing prompts, music theory games, song study, video/recording analysis and much more

Creativity Projects – optional deadlines and goals to work toward, including

audio recordings, performances, collaborations, artistic presentations and/or video recordings suitable for sharing with friends and family

Premium Service – enrollment is limited so that our clients receive our dedicated attention, premium service and time
Office Hours – Courtney is available during regular business hours to answer questions via text and email throughout the week
We offer coaching/lessons on the following topics:
Inspiring vocal coaching & voice lessons focused on technique and songs – a program designed to support you in your unique vocal and musical aspirations. Specializing in pop, rock, jazz, folk, country, musical theatre and other contemporary styles. A fusion of voice and breathing exercises, musicianship, creative development, storytelling, performance skills and much more.
Do you wish your speaking voice sounded different? Do you have difficulty being heard in a noisy room? Do you want to feel more authority or satisfaction when you speak? If you want to be a better communicator, whether professionally or in your daily life, vocal coaching can enhance the quality of your speaking voice, as well as boost your presence and influence.
Writing lyrics from the heart, choosing chords, creating a story, navigating blocks and finding a flow, developing your artistry and singing a song that's truly yours. Including elements of music theory, ear training and vocal coaching to help you sound your best.
Think outside the box, try a new perspective and explore your creative potential. We combine musical training, vocalization, improvisation, songwriting, creative-writing techniques and journaling to help fuel your ideas and artistry – and we design personalized goals that achieve results! Perfect for clients looking for new ways to see fresh, innovative solutions.
A fantastic, in-depth study of everything jazz voice: memorize standards, analyze recordings, learn to scat and improvise, work on grooves and feels like swing, bossa nova and other traditional styles, develop your phrasing, create captivating arrangements and compositions and develop your skills as a band leader.
For total beginners who truly love music and want to understand its ins-and-outs! Learn about melodies, match pitch and feel the groove of your favorite songs. Become a more educated listener, discover your voice and expand your musical horizons!
Whether you're a music student preparing for an audition or a professional preparing for a recording, we can help you meet your deadlines and sound great doing it. Past project ideas: album releases, performances and special events, auditions for The Voice and American Idol, college applications, competitions, school/program tryouts and music exams.
Have you ever been puzzled by music theory? Want to learn to read music? Or maybe you're into more advanced topics? We can help! Welcome to the magical world of pitches and rhythms, time and key signatures, scales and modes, intervals, ear-training, triads and seventh chords, harmonic functions and progressions, extended harmonies and improvisation. Whether you're a total beginner, a music student studying for an AP test or a professional looking to better understand the music you love, we'll create a personalized mix of topics to support your needs.
Please contact us with any questions! Be sure to check out the Q&A on our homepage for more info.
Pricing
Sessions are typically held once a week at the same time each week.
Frequency may vary and schedules may be accommodated based on availability.
Payment plans and individual sessions may be offered by request – additional fees apply.
For those with financial need, sliding-scale rates may be available.
Please Contact Us with any questions!
45 Minutes:
$60/session: Three Month Bundle – $780 for 13 sessions (weekly)
$65/session: Month-to-Month – $260-325 for 4-5 sessions (weekly)
60 Minutes:
$80/session: Three Month Bundle – $1040 for 13 sessions (weekly)
$85/session: Month-to-Month – $340-425 for 4-5 sessions (weekly)
90 Minutes:
$120/session: Three Month Bundle – $1560 for 13 sessions (weekly)
$125/session: Month-to-Month – $500-625 for 4-5 sessions (weekly)
Checks, PayPal and all major credit cards accepted.

Ready to get started?
Gift Certificates
Looking for a fantastic gift idea? Email us to order a gift customized for you – or checkout via Paypal and we'll contact you within 24 hours for the details! (Gift certificates can be sent directly from us via email or snail mail!)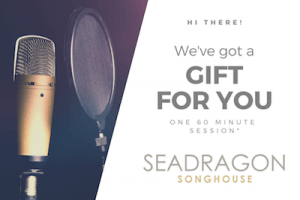 1. Sessions are typically scheduled once a week, but duration and schedule will be determined and agreed upon by client and coach.
2. Rates vary depending on selected payment package.
3. Rates are based upon a model of 4 weekly sessions per month. For months in which there are 5 weeks of sessions, the extra session will be added to the invoice at the agreed upon rate.
4. Payment is due in full on or before the first session of each month. Payment method will be agreed upon by client and Seadragon Songhouse. Payment may be made either by check, credit card (Visa, Mastercard, Discover and American Express) or PayPal via invoice or automatic billing.
5. An invoice and confirmation of the upcoming month's session dates will be provided during the last week of each month. Please notify us of any scheduling conflicts ASAP.
6. In an effort to respect other clients' schedules, any sessions started late will still end at the pre-arranged time.
7. We have a 48 hour cancellation policy. For sessions cancelled within 48 hours, the session fee will be forfeited in full.
8. Makeup sessions are only offered for cancellations with advance notice of 48 hours or greater.
9. In case of last-minute cancellation due to illness (for in-person clients) or internet outage (for online clients), a makeup session may be offered at the discretion of Seadragon Songhouse.