We offer specialized vocal coaching and voice lessons in singing & speech, songwriting and creativity. We provide a fully-customized, holistic and heart-centered experience based on science, intuition and imagination – helping you fuel your creative spark and use your voice with greater freedom and power.
Work with us online via Skype or Zoom.
All ages and levels of experience welcome.
Based on Hilton Head Island, South Carolina.
VIRTUAL SESSIONS ONLY: We currently work with clients via virtual sessions only! Thank you for your positivity and flexibility as we keep our voices high and empowered around the world! For more details about our awesome virtual sessions, view our "Services" page.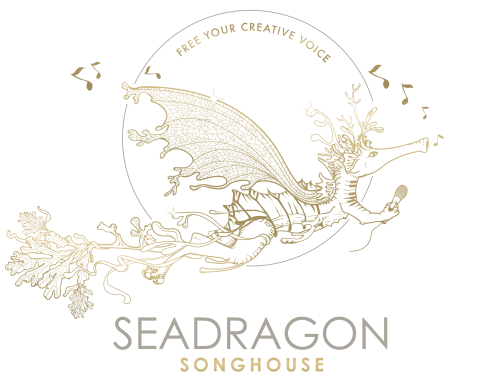 I've been told that I can't sing… I stumbled upon Seadragon Songhouse… [And] I left a confident tenor with a three octave range. Courtney is a ray of light and the best sort of teacher.
Grant, Musician & Engineer
Coach Courtney is some sort of unicorn-angel-musician-songwriting-vocalist… We're thrilled at [her] professionalism, style, grace and sheer talent.
Rachael, Voiceover Artist
[Courtney is] incredibly insightful, flexible, patient, and has the ability to nurture musical inspiration in a way I've never seen in my 14 years as a musician.
Max, Musician
Courtney is a kind, caring, intelligent, experienced soul in this world who will be your partner in strengthening or discovering your voice in your life.
Andy, Business Coach
Courtney is kind and encouraging – and brought out a confidence in our daughter that didn't exist before!
Heather, Education
Seadragon Songhouse is a place where you can get cutting edge instruction on vocal function, as well as find your unique voice as a songwriter.
Kate, Recording Artist
Courtney Cutchins, MM
Founder & Voice Coach
For a special message from Coach Courtney, visit our About page!
Courtney Cutchins is the founder and voice coach of Seadragon Songhouse. Since 2005, she's been sharing her passion for music education, helping clients learn to sing their songs and love their voices – from Seattle to New York City to Atlanta. With a Master of Music degree in Jazz Vocal Performance from the prestigious Manhattan School of Music, and a Bachelor of Music degree from Cornish College of the Arts, her coaching is informed by Somatic Voicework™ methods, as well as her experiences as a performing artist and educator. Her teaching focus is on CCM (Contemporary Commercial Music) styles such as pop, rock, jazz, folk and original songs – and she believes in trusting her client's creative voice to guide each session, encouraging their authentic and unique self to shine through.
Sara Decker, MM
Associate Voice Coach
Sara Decker is our associate coach based in Cologne, Germany. An award-winning singer/songwriter and recording artist with two albums so far, she's also a Fulbright Scholar, studied at the Manhattan School of Music in NYC and won second place in the prestigious Montreux Jazz Voice Competition in Switzerland. With a Master of Music degree in Jazz/Pop Voice from the Conservatory Maastricht, Netherlands, she's been teaching at schools throughout Europe since 2012 and works with EVTS, Somatic Voicework, Speech Level Singing and CVT methods. Sara believes that finding and lifting your unique voice is a deeply empowering experience. She follows the philosophy of connecting vocal artistry and skill with singing from the heart, fueling creative energy.
Limited Availability Weekdays & Sundays! Apply Online Today and Join the Waitlist!
Our Clients Are:
Singers
・
Musicians
・Recording Artists
・
Entrepreneurs
・
Students
・
Actors
・Dreamers
・Storytellers
・
Podcasters
・Parents
・
Executives
・Retirees
・Coaches
・
Creatives
・Engineers
・
Voiceover Artists
・
Consultants
・
Vocal Explorers
・Health Professionals
Across the Country:

☆☆☆☆☆
Found Seadragon Songhouse and Courtney while researching for voice coaches and found her to far exceed my expectations. Fully supportive and genuinely interested in my thoughts and personal experiences, she is not only my voice coach, and sometimes my therapist (lol…), but also my new friend. Courtney is an absolute pleasure to work with. I would highly recommend her services to any of my friends and family.

☆☆☆☆☆
My daughter has been taking singing lessons with Courtney both in-person and on Skype for the past 5 years. I was unsure if a remote set-up would be effective for music lessons, but it is absolutely just as effective as in-person lessons. Courtney is patient, nurturing and really knows how to listen and build both adult and teen students' confidence. Her creativity really shines through in her teaching method/style as she finds the just right balance for each student. My daughter has thrived under Courtney's teaching!
☆☆☆☆☆
AMAZING! I've been working with Courtney for 3 months now and I've never felt stronger vocally. Courtney is so fun and pleasant to work with. I came to her having never taken a voice lesson before, yet I always feel so comfortable in my lessons with her and can really see/hear my growth. Thank you, Courtney, for believing in me and pushing me to be the best!

☆☆☆☆☆
Anyone can hang a shingle out and call themselves a teacher. In the 10 years I have known Courtney Cutchins, she has proven to be deeply committed to increasing her own areas of mastery in order to better serve her customers. The music business is always changing and Seadragon Songhouse is a place where you can get cutting edge instruction on vocal function, as well as help to find your unique voice as a songwriter. Get there!

☆☆☆☆☆
Courtney is an amazing teacher, kind, compassionate, and caring. She is a skilled musician and singer, and brings a wealth of knowledge to the table to help reach any musical goals you might have. Having Courtney on your "team" is a big win! You will love her immediately and she will work with you in a non-intimidating way. I highly recommend this lovely and skilled music instructor and coach.

☆☆☆☆☆
We've had such a great experience with Courtney. She is kind and encouraging and brought out a confidence in our daughter that didn't exist before. This was our first time with individual singing lessons and we can't say enough about how positive it was! We would highly recommend.

☆☆☆☆☆
Courtney is a great voice teacher! As a theatre artist who has always shied away from singing, she has not only given me to the tools to rock a musical theatre audition, but also the confidence. She truly listens to your needs no matter your skill set or preferred genre of song. I have grown exponentially since I started learning from her.
☆☆☆☆☆
If you want to find a particular voice of yours that is lost, or strengthen one you have, look no further than Courtney Cutchins and her Seadragon Songhouse studio and family to reach your goals. Courtney is a kind, caring, intelligent, experienced soul in this world who will be your partner in strengthening or discovering your voice in your life. Her studio is warm and inviting, and her smile, when you are frustrated with yourself, lets you know that the Songhouse is a place of non-judgement, love and support. If you ever have the chance to visit Courtney and her Songhouse, be sure to ask for an introduction to her partner in crime… Scales!

☆☆☆☆☆
Courtney is an outstanding teacher. Her techniques helped take my son's vocal skills to the next level. She coached him through auditions and performances, always inspiring his creativity and individuality. She is extremely supportive and truly cares about her students.  
☆☆☆☆☆
As a beginner, I have very much appreciated Courtney's ability to encourage me as well as create a comfortable environment. She's also been excellent at tailoring lessons to fit my goals and learning style, even when the goal is as simple as "be a better singer."
☆☆☆☆☆
Coach Courtney is some sort of unicorn-angel-musician-songwriting-vocalist, and with just one lesson in, we're thrilled at [her] professionalism, style, grace and sheer talent. Her space and energy is warm and inviting, putting me and my 7 year old at ease instantly. If you're looking for a pro to help nurture your kid's voice (adults, too) and musicality, in an environment that will nurture creativity, Seadragon Songhouse is where you want to land. I'm already blown away.

☆☆☆☆☆
Courtney's education, experience and teaching ability is second to none. I have been a student for a little over 2 months and the knowledge I have acquired and the improvement in my voice is something I never thought possible. In addition to voice, we have been exploring songwriting, which I have always wanted to do. Thanks to Courtney, I have written my first song with chord structures, hook and lyrics. Her teaching style is like nothing I have ever experienced. Easy nudging and gentle encouragement – and when you leave your lesson, its like "wow!" Who knew? I cannot say enough great things about Courtney. In my opinion, she is the best!

☆☆☆☆☆
Courtney, of Seadragon Songhouse, has a fabulous ability to reach your child where he/she is and help him/her move towards a goal! In my child's case, his ability to express and articulate his feelings was limited because his voice and breathing left his communication flat. Courtney was able to evaluate what was happening in his situation and design exercises to help him see improvement. Her genius, though, was in getting to know my child well enough to design exercises that he was willing and even excited about doing because they were tailored to his interests. After the first session, he was hooked and happily continued his lessons seeing improvement each time. I would highly recommend Courtney and Seadragon Songhouse!

☆☆☆☆☆
Courtney is an exceptional guide, mentor, and pedagogue. Each lesson – I grow mountains. She is diagnostic, prescriptive and structured – in just the right the measure. Courtney's beautiful spirit puts one completely at ease.  If inhibited in anyway – no worries – you will forget you ever were. My talented friend who referred me to Courtney said, "She is the best – I love her!" – which about sums it up. Importantly, Courtney is completely dependable and her follow up notes are thorough and a good keepsake. Without hesitation, I give Seadragon Songhouse the highest possible recommendation.
☆☆☆☆☆
I truly thoroughly enjoyed my experience working with Courtney this summer. As a newbie to voice lessons, she made the experience so easy and welcoming, and I even wrote my own song for the first time ever! After every session I felt so refreshed, inspired & grateful to use and strengthen my voice. I did more than I thought I ever could. The whole experience was very beautiful and joyful. I would highly recommend Courtney for your voice lesson needs. She's so gifted and kind!
☆☆☆☆☆
Courtney is awesome! She has helped me with my speaking voice and has given me a newfound interest and appreciation for singing. I would highly recommend to anyone looking to improve their singing or speaking voice.
☆☆☆☆☆
Courtney is a caring, enthusiastic and very talented instructor. She is fully invested in the growth, progress and development of her students! Very satisfied with our lessons together.
☆☆☆☆☆
Coach Courtney has a true talent for connecting with her students! My 10 year old has so much more vocal confidence and focus. Coach Courtney is kind, patient, extremely knowledgeable, and professional! The BEST!
☆☆☆☆☆
I started working with Courtney and my voice has improved significantly. She is a consummate professional and very encouraging. She is always prompt, shares practice notes which are very helpful, and her expertise and teaching ability shine during each session we have. Highly recommended!
☆☆☆☆☆
Courtney's credentials, her performance experience and her emotional intelligence allows her to support and guide my creative spirit into new areas of experience with a sure hand. After having had to withdraw from 2 choruses due to Covid 19, I started working with Courtney virtually in September 2020 badly in need of song therapy. Her teaching style fit perfectly. She encouraged me to choose my own songs, introduced me to iRealPro and I recovered rapidly! A couple months later I had written a song, and sung an impromptu melody which proved to myself that even I could do that. To support my secret wish to be able to arrange pop songs for barbershop choruses, I asked for some music theory and -voila! – the chord confusion started to clear up and the possibility of arranging became a real possibility. Courtney owns the jewels of patience and kindness with no disparaging words, EVER. I absolutely trust her.

Vocal Coaching・Voice Lessons・Singing Lessons・Songwriting Lessons・Creativity Coaching・Online Lessons ・Virtual Lessons
Hilton Head・Savannah・Charleston・Bluffton・Mount Pleasant・Atlanta ・Charlotte・Jacksonville・Orlando
Seattle・ Portland・New York City・Los Angeles・San Francisco・Nashville・Boston・Chicago・Austin・Raleigh